---
---
45 Movies Found Where Cast = 109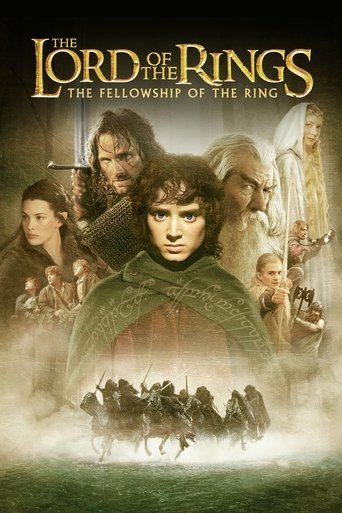 Tagline: One ring to rule them all
Overview: Young hobbit Frodo Baggins, after inheriting a mysterious ring from his uncle Bilbo, must leave his home in order to keep it from falling into the hands of its evil creator. Along the way, a fellowship is formed to protect the ringbearer and make sure that the ring arrives at its final destination: Mt. Doom, the only place where it can be destroyed.
2001 Action,Adventure,Fantasy
Tagline: The eye of the enemy is moving.
Overview: Aragorn is revealed as the heir to the ancient kings as he, Gandalf and the other members of the broken fellowship struggle to save Gondor from Sauron's forces. Meanwhile, Frodo and Sam bring the ring closer to the heart of Mordor, the dark lord's realm.
2003 Action,Adventure,Fantasy
Tagline: A New Power Is Rising.
Overview: Frodo and Sam are trekking to Mordor to destroy the One Ring of Power while Gimli, Legolas and Aragorn search for the orc-captured Merry and Pippin. All along, nefarious wizard Saruman awaits the Fellowship members at the Orthanc Tower in Isengard.
2002 Action,Adventure,Fantasy
Tagline: You can erase someone from your mind. Getting them out of your heart is another story.
Overview: Joel Barish, heartbroken that his girlfriend underwent a procedure to erase him from her memory, decides to do the same. However, as he watches his memories of her fade away, he realises that he still loves her, and may be too late to correct his mistake.
2004 Drama,Romance,Science Fiction
Tagline: Roads? Where we're going, we don't need roads!
Overview: Marty and Doc are at it again in this wacky sequel to the 1985 blockbuster as the time-traveling duo head to 2015 to nip some McFly family woes in the bud. But things go awry thanks to bully Biff Tannen and a pesky sports almanac. In a last-ditch attempt to set things straight, Marty finds himself bound for 1955 and face to face with his teenage parents -- again.
1989 Adventure,Comedy,Family,Science Fiction
Tagline: WARNING: May Cause Toe-Tapping.
Overview: Into the world of the Emperor Penguins, who find their soul mates through song, a penguin is born who cannot sing. But he can tap dance something fierce!
2006 Animation,Comedy,Family
Tagline: Hunt forever.
Overview: The modern world holds many secrets, but by far the most astounding is that witches still live among us; vicious supernatural creatures intent on unleashing the Black Death upon the world and putting an end to the human race once and for all. Armies of witch hunters have battled this unnatural enemy for centuries, including Kaulder, a valiant warrior who many years ago slayed the all-powerful Witch Queen, decimating her followers in the process. In the moments right before her death, the Queen cursed Kaulder with immortality, forever separating him from his beloved wife and daughter. Today, Kaulder is the last living hunter who has spent his immortal life tracking down rogue witches, all the while yearning for his long-lost family.
2015 Action,Adventure,Fantasy,Science Fiction
8.) 9 (
☆

/10)
Tagline: When our world ended their mission began.
Overview: When 9 first comes to life, he finds himself in a post-apocalyptic world. All humans are gone, and it is only by chance that he discovers a small community of others like him taking refuge from fearsome machines that roam the earth intent on their extinction. Despite being the neophyte of the group, 9 convinces the others that hiding will do them no good.
2009 Action,Adventure,Animation,Science Fiction,Thriller
Tagline: Heaven and Earth are about to collide.
Overview: A seven-mile-wide space rock is hurtling toward Earth, threatening to obliterate the planet. Now, it's up to the president of the United States to save the world. He appoints a tough-as-nails veteran astronaut to lead a joint American-Russian crew into space to destroy the comet before impact. Meanwhile, an enterprising reporter uses her smarts to uncover the scoop of the century.
1998 Action,Drama,Romance
Tagline: Just think of someone you hate.
Overview: After being wrongfully expelled from Harvard University, American Matt Buckner flees to his sister's home in England. Once there, he is befriended by her charming and dangerous brother-in-law, Pete Dunham, and introduced to the underworld of British football hooliganism. Matt learns to stand his ground through a friendship that develops against the backdrop of this secret and often violent world. 'Green Street Hooligans' is a story of loyalty, trust and the sometimes brutal consequences of living close to the edge.
2005 Crime,Drama
About
Page generated in 0.01234 seconds.