---
---
33 Movies Found Where Cast = 6383
Tagline: Why So Serious?
Overview: Batman raises the stakes in his war on crime. With the help of Lt. Jim Gordon and District Attorney Harvey Dent, Batman sets out to dismantle the remaining criminal organizations that plague the streets. The partnership proves to be effective, but they soon find themselves prey to a reign of chaos unleashed by a rising criminal mastermind known to the terrified citizens of Gotham as the Joker.
2008 Action,Crime,Drama,Thriller
2.) Sully (
☆

/10)
Tagline: The Untold Story Behind the Miracle on the Hudson.
Overview: On 15 January 2009, the world witnessed the 'Miracle on the Hudson' when Captain 'Sully' Sullenberger glided his disabled plane onto the frigid waters of the Hudson River, saving the lives of all 155 aboard. However, even as Sully was being heralded by the public and the media for his unprecedented feat of aviation skill, an investigation was unfolding that threatened to destroy his reputation and career.
2016 Drama,History
Tagline: When our flag falls our nation will rise.
Overview: When the White House (Secret Service Code: "Olympus") is captured by a terrorist mastermind and the President is kidnapped, disgraced former Presidential guard Mike Banning finds himself trapped within the building. As the national security team scrambles to respond, they are forced to rely on Banning's inside knowledge to help retake the White House, save the President and avert an even bigger disaster.
2013 Action,Thriller
Tagline: The world's leaders have assembled. So have their enemies.
Overview: In London for the Prime Minister's funeral, Mike Banning discovers a plot to assassinate all the attending world leaders.
2016 Action,Crime,Thriller
Tagline: She brought a small town to its feet and a huge corporation to its knees.
Overview: A twice-divorced mother of three who sees an injustice, takes on the bad guy and wins -- with a little help from her push-up bra. Erin goes to work for an attorney and comes across medical records describing illnesses clustered in one nearby town. She starts investigating and soon exposes a monumental cover-up.
2000 Drama
Tagline: It's not war. It's survival.
Overview: The Earth is attacked by unknown forces. As people everywhere watch the world's great cities fall, Los Angeles becomes the last stand for mankind in a battle no one expected. It's up to a Marine staff sergeant and his new platoon to draw a line in the sand as they take on an enemy unlike any they've ever encountered before.
2011 Action,Science Fiction
Tagline: Tobacco lobbyist Nick Naylor is trying to SAVE YOUR ASH!
Overview: Nick Naylor is a charismatic spin-doctor for Big Tobacco who'll fight to protect America's right to smoke -- even if it kills him -- while still remaining a role model for his 12-year old son. When he incurs the wrath of a senator bent on snuffing out cigarettes, Nick's powers of "filtering the truth" will be put to the test.
2005 Comedy,Drama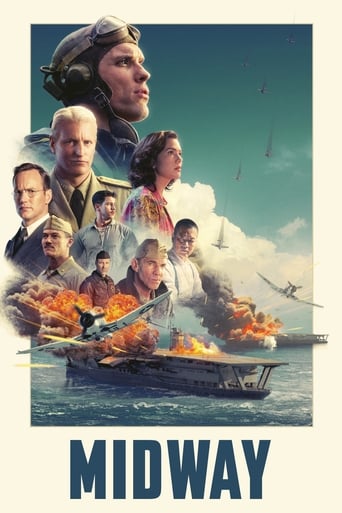 Tagline: One battle turned the tide of war
Overview: MIDWAY centers on the Battle of Midway, a clash between the American fleet and the Imperial Japanese Navy which marked a pivotal turning point in the Pacific Theater during WWII. The film, based on the real-life events of this heroic feat, tells the story of the leaders and soldiers who used their instincts, fortitude and bravery to overcome the odds.
2019 Action,Drama,History,War
Tagline: In the battle between good and evil, an immortal holds the key
Overview: 200 years after his shocking creation, Dr. Frankenstein's creature, Adam, still walks the earth. But when he finds himself in the middle of a war over the fate of humanity, Adam discovers he holds the key that could destroy humankind.
2014 Horror,Thriller
Tagline: Remember the future.
Overview: Michael Jennings is a genius who's hired – and paid handsomely – by high-tech firms to work on highly sensitive projects, after which his short-term memory is erased so he's incapable of breaching security. But at the end of a three-year job, he's told he isn't getting a paycheck and instead receives a mysterious envelope. In it are clues he must piece together to find out why he wasn't paid – and why he's now in hot water.
2003 Action,Adventure,Mystery,Science Fiction,Thriller
About
Page generated in 0.02153 seconds.