---
---
72 Movies Found Where Keyword Name = 4426
Tagline: Why So Serious?
Overview: Batman raises the stakes in his war on crime. With the help of Lt. Jim Gordon and District Attorney Harvey Dent, Batman sets out to dismantle the remaining criminal organizations that plague the streets. The partnership proves to be effective, but they soon find themselves prey to a reign of chaos unleashed by a rising criminal mastermind known to the terrified citizens of Gotham as the Joker.
2008 Action,Crime,Drama,Thriller
Tagline: What do you see when you look at me?
Overview: McCall believes he has put his mysterious past behind him and dedicated himself to beginning a new, quiet life. But when he meets Teri, a young girl under the control of ultra-violent Russian gangsters, he can't stand idly by – he has to help her. Armed with hidden skills that allow him to serve vengeance against anyone who would brutalize the helpless, McCall comes out of his self-imposed retirement and finds his desire for justice reawakened. If someone has a problem, if the odds are stacked against them, if they have nowhere else to turn, McCall will help. He is The Equalizer.
2014 Action,Crime,Thriller
Tagline: A crash course in revenge
Overview: Austin's hottest DJ, Jungle Julia, sets out into the night to unwind with her two friends Shanna and Arlene. Covertly tracking their moves is Stuntman Mike, a scarred rebel leering from behind the wheel of his muscle car, revving just feet away.
2007 Action,Thriller
Tagline: We've been expecting you.
Overview: The eerie and deserted ghost town of Silent Hill draws a young mother desperate to find a cure for her only child's illness. Unable to accept the doctor's diagnosis that her daughter should be permanently institutionalized for psychiatric care, Rose flees with her child, heading for the abandoned town in search of answers – and ignoring the protests of her husband. It's soon clear this place is unlike anywhere she's ever been. It's smothered by fog, inhabited by a variety of strange beings and periodically overcome by a living 'darkness' that literally transforms everything it touches. As Rose searches for her little girl, she begins to learn the history of the strange town and realizes that her daughter is just a pawn in a larger game.
2006 Horror,Mystery
Tagline: What you know about fear... doesn't even come close.
Overview: Chrissie and her friends set out on a road trip for a final fling before one is shipped off to Vietnam. Along the way, bikers harass the foursome and cause an accident that throws Chrissie from the vehicle. The lawman who arrives on the scene kills one of the bikers and brings Chrissie's friends to the Hewitt homestead, where young Leatherface is learning the tools of terror.
2006 Horror,Thriller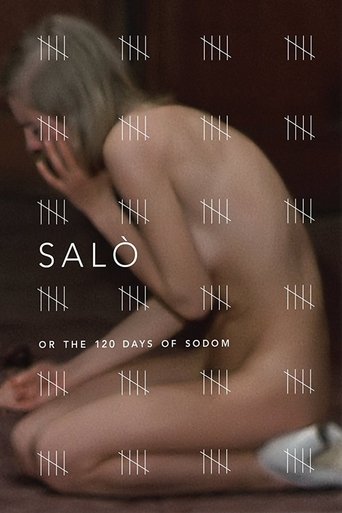 Tagline: The final vision of a controversial filmmaker.
Overview: Four corrupted fascist libertines round up 9 teenage boys and girls and subject them to 120 days of sadistic physical, mental and sexual torture.
1975 Drama,History,Horror,War
Tagline: Evil has a destiny.
Overview: After being committed for 17 years, Michael Myers, now a grown man and still very dangerous, escapes from the mental institution (where he was committed as a 10 year old) and he immediately returns to Haddonfield, where he wants to find his baby sister, Laurie. Anyone who crosses his path is in mortal danger
2007 Horror
Overview: Two psychotic young men take a mother, father, and son hostage in their vacation cabin and force them to play sadistic "games" with one another for their own amusement.
1997 Drama,Horror,Thriller
Tagline: Not all films have a happy ending.
Overview: Milos, a retired porn star, leads a normal family life trying to make ends meet. Presented with the opportunity of a lifetime to financially support his family for the rest of their lives, Milos must participate in one last mysterious film. From then on, Milos is drawn into a maelstrom of unbelievable cruelty and mayhem.
2010 Crime,Horror,Thriller
Tagline: A weekend by the lake, with views to die for.
Overview: Eden Lake is a relentlessly tense and immaculately paced horror-thriller about modern youth gone wild. When a young couple goes to a remote wooded lake for a romantic getaway, their quiet weekend is shattered by an aggressive group of local kids. Rowdiness quickly turns to rage as the teens terrorize the couple in unimaginable ways, and a weekend outing becomes a bloody battle for survival.
2008 Horror,Thriller
About
Page generated in 0.02428 seconds.